Study and Intern Abroad Fall 2020
Earn 12 Credit Hours and Gain Valuable Global Experience
Studying abroad offers a life-changing opportunity to learn and grow while still earning credits toward your degree. Internships abroad provide global, career-oriented experiences that can directly apply to your resume. API's unique Study and Intern Abroad programs allow you to combine both, giving you the opportunity to gain new perspectives and unlock new skills and abilities. Whether you want to climb the corporate ladder, create your own start-up, work in public service, or explore career paths untold, this innovative program will elevate your skills and broaden your mindset.
The program lasts 12-weeks, with the study and internship abroad sections completed consecutively. In your first five weeks, you will take two core classes, Critical Thinking and Immigration in Historical Context.* For the last seven weeks, you are placed in an internship that best fits your interests and career aspirations. Upon completion of the program, you will earn 12 credit hours toward your degree and gain an unforgettable international experience to add to your resume.
How it works:
Choose from four different program city options: Barcelona, Dublin, Santiago, and Sydney
Spend the first five weeks in two intensive academic courses taught by faculty on-site
End the program in a seven-week full-time internship placement
Dedicated time is afforded to both sections, giving you balance between study and professional development
Apply Now for Fall 2020 Programs.
Deadline May 1st.

Key Dates, Locations, and Fees
Fall Deadline: May 1st
Fall Program Dates: August 26 - November 21
Barcelona: $11,900
Dublin: $12,995
Santiago: $11,900
Sydney: $12,900

Program Benefits
Price point below $13k
12 Academic Credits
Tailor-made internship placement
Housing Included
Access to Resident Directors 24/7
Local and Cultural Activities and Excursions
International Health Insurance
Academic Information
You will be enrolled in academic credit through the API School of Record, Nichols College. By participating in the program, you will earn a total of 12 credit hours as letter grade (3 courses for 3 credit hours each). You will also receive an official Nichols College transcript upon completion. The two courses are taught on-site by faculty.
HUM 244 Critical Thinking - 3 Credits
In this course, you will learn about the biases, perspectives, and motivations that can be hindrances to problem solving and decision making within organizations. You will be asked to examine in detail how you think to better evaluate, analyze, and resolve issues encountered in an organizational context.*
HIS 270 Immigration in Historical Context - 3 Credits
Immigration has been a significant feature of many societies around the world. Debates about it in the 21st century are not new. Migrants from Europe, Asia, Latin America, and Africa have invigorated their new destinations in a variety of ways—politically, economically, socially, and culturally. Yet, an ambivalent attitude toward immigration has persisted as migrants are often depicted as benefits or threats. In this course, you will examine why this dynamic has continued. We will focus primarily on examples of voluntary migration (including refugees) and immigration legislation.*
Courses will typically be held Monday - Thursday for two hours a day each during the first five weeks.
Internship Information
Students will receive a high-quality, tailor-made internship based on their individual learning and career objectives. The internship experience will give participants the unique opportunity to explore and cultivate their future career path during the 7-week experience. Placements can be made in almost every field of study. Language requirements may apply for certain placements in non-English speaking destinations.
Participants will intern 5 days/35-40 hours a week for approximately 280 contact hours.
INTD 470 Global Internship - 6 Credits
This course explores the role of culture and international work experience in shaping students personally and professionally for their future careers. Through assignments and reflection exercises, you will learn about global communication, competence, cultural understanding, and the soft skills you gain while navigating the challenges and opportunities of living and working abroad. The internship course encourages you to integrate your academic coursework with your work experience, career development goals, and personal skills and values.*
Students will be enrolled in an internship course at Nichols College, which will be taught remotely using an online learning management system. Students must submit a series of reflective assignments in conjunction with their internship experience.
*Sample Courses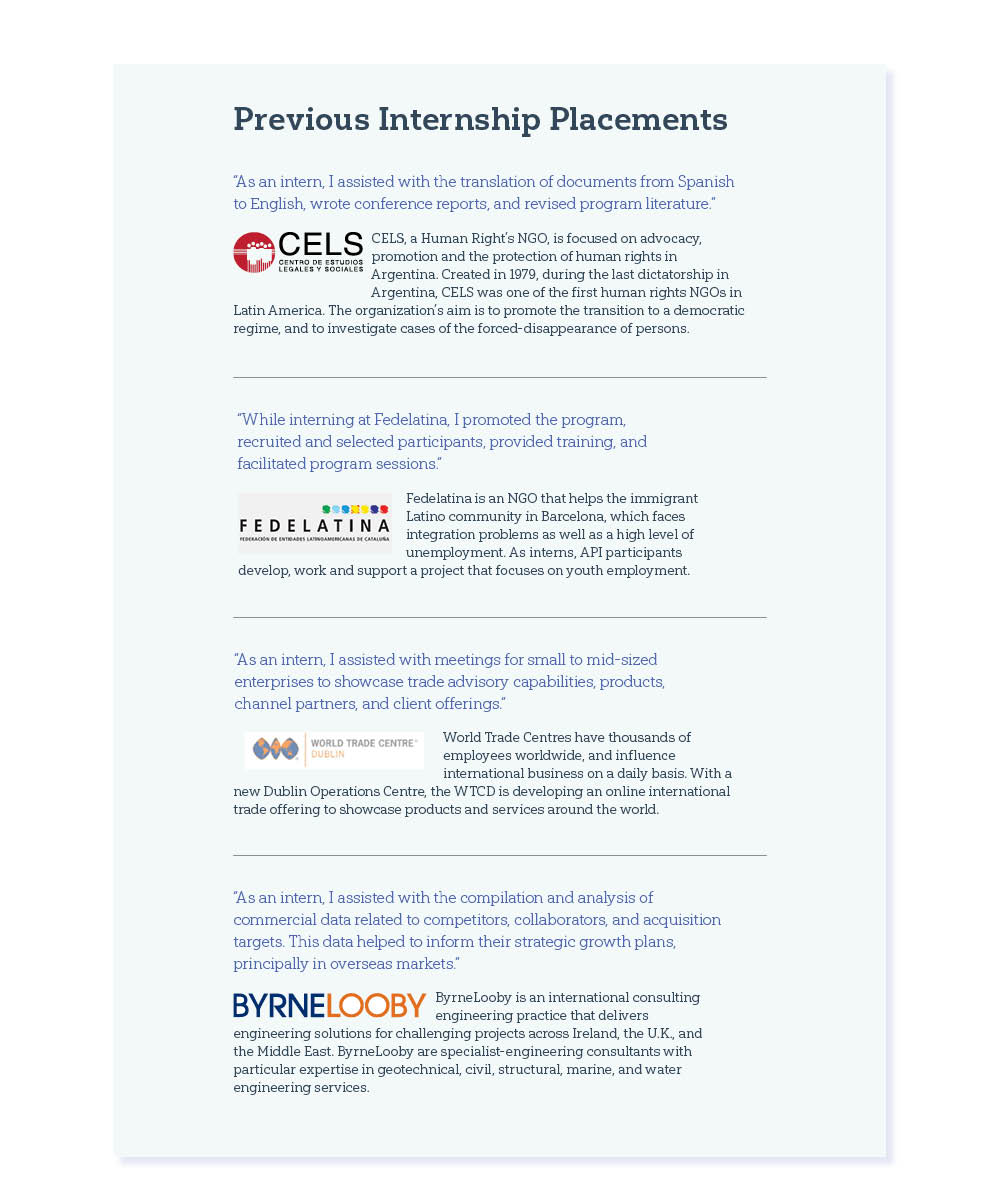 API Internships Abroad Programs
API offers more than just Study and Intern Abroad programs. Want to learn more about our offerings? Submit the form below and we'll send information our other Internships Abroad.